Reduce The Chance Of Catastrophic Water Damage!
The WaterCop Sensor Signal Repeater increases effective range of wireless flood and temperature sensors. It retransmits wireless signal from sensors to the WaterCop valve.
About The WaterCop System
The WaterCop System is designed to detect leaks in your plumbing system at predetermined locations, and automatically shut off the water supply to help effectively reduce the chances of major water damage associated with a leak. A WaterCop automatic water shut-off valve system will provide your home with round-the-clock indoor flood protection and works with wired and wireless flood sensors, wall switches, and most home security and home automation systems.
Flood damage and losses related to plumbing problems can lead to higher home insurance costs and possibly the loss of affordable coverage altogether. The WaterCop system, when properly installed and maintained, offers a proven method to effectively reduce the chance of catastrophic plumbing related flooding.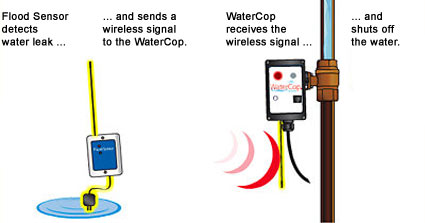 How the System Works
Flood sensors constantly monitor their selected areas for accumulating moisture. When a leak is detected, a sensor will send a radio frequency signal to the WaterCop unit instructing it to shut off the water supply to the home. The WaterCop valve will remain closed until it is manually reset.
The flood sensors are a battery powered device enabling it to be located anywhere a leak is likely to occur, or where water might cause damage.
Note: The WaterCop requires household electrical power (common 115 VAC, grounded outlet) and will not operate during a power outage.
Stop Damaging Water Leaks...
... before they become major problems!
WaterCop automatic water shut-off systems automatically turn off the water when a leak has been detected. This effectively reduces the chance of water damage due to common plumbing problems.
WaterCop Systems are activated by flood sensors, an optional remote switch, or many types of home security systems. WaterCop systems provide homeowners with added control benefits and peace of mind.
Maintain a smarter home... install a WaterCop today!