HOW TO BUILD A HOME SECURITY SYSTEM
The importance of your family's security cannot be overstated. For this reason, Home Controls offers a comprehensive collection of wired and wireless home security systems, including professional-grade security controllers, do-it-yourself security options, video surveillance, access controls, stand-alone alert products – plus all the accessories you need to protect your family and home.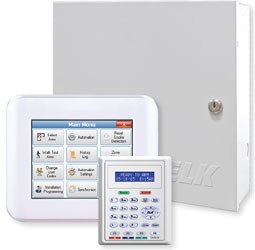 Start With A Controller & Keypad

Home Controls offers a selection of security systems developed by the top manufacturers in home security. The heart of these systems is a control panel, operated with keypads located at key points throughout your house. All the system's components and accessories connect through wired or wireless connections.
Professional-Grade Wired/Wireless Security Options: For the ultimate in home protection, Home Controls caries some of the most respected security systems available – including Interlogix NetworX, HAI/Leviton Omni, Elk M1, Linear and Napco Gemini.
» Shop Now
Do-It-Yourself Wireless Security Options: Home Controls offers a DIY dream collection. Perfect from smaller homes, these wireless security systems require no home wiring. Select from AirAlarm, Skylink, X10 and more!
» Shop Now
Sensors can monitor just about anything: windows, doors, driveways, plumbing, smoke, heat, animals, garages, mailboxes and more. Once a sensor is activated, it immediately notifies the controller.

» Shop Now

Expand and customize your home security system with wireless transmitters and receivers, sirens and speakers, dialers, cell backups and more. Home Controls even carries a complete line of power supplies.

» Shop Now

Watch your children, see who is at the front door, view the side yard, monitor the pool area ... all with a state-of-the-art surveillance system. Home Controls offers both cameras and recording devices.

» Shop Now
---
Stand-Alone & Specialty Security Systems

Not every home security device needs to be connected to an integrated system. For smaller and more specific needs, Home Controls provides several stand-alone and specialty security systems, including do-it-yourself (DIY) alert systems, wired and wireless driveway alarms, environmental reporting systems, security lighting and more. Need help selecting the right product? We're experts in home security systems, so don't hesitate to call our Technical Support Team at 1-800-266-8765 for free advice!

Select A Category
These comprehensive security systems provide the ultimate in home protection.

Ideal for medium to small homes, these systems can be installed by anyone.

Add-on

sensor

s for your pro-grade security system can monitor just about anything.

Expand and customize your home security system with accessories.

Create stand-alone surveillance, or incorporate into your security system.

Control who can enter designated areas of your home using access controls.

Remotely monitor harmful elements, including temperature and water.

Control, view and arm your home security system from anywhere you go!

Easy-to-install and cost-effective alert systems – no security system required.

Know when someone comes onto your property with stand-alone alerts.

Emergency alerts specifically for seniors and those living independently.

Lights automatically turn on to scare away potential intruders.

Remote control transmitters and receivers to open and close your garage door.

Protect your car and yourself during road trips.

Featured Products