How To Build A Structured Wiring System
Connected homes integrate cable TV, multiple phone lines, satellite feeds, audio and video systems, computers, Internet, security systems and more to provide convenient control over the entire home environment. Built for today with an eye toward tomorrow, these systems enable you to fully maximize the capabilities of home devices and systems, and help them run together more efficiently.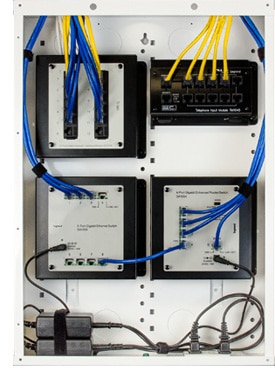 Start With A Media Center
Structured Media Systems create one central hub that interconnects all the media devices and other electronics in your home. First, install an enclosure, and then choose from an innovative selection of customizable modules and panels to manage and distribute audio, video, voice and data into the configuration best suited to your home's needs.

Run cables from your media center to individual rooms in your home. Home Controls offers just about any type of cable or wiring you need to connect your home systems. Home Controls also provides bundled cables and terminated cables, plus any required connector.
» Shop Now

Finish your structured wiring system by installing customizable wallplates and inserts, connected to your Media Center through your home's wiring. Home Controls carries everything you need, from the mounting brackets to the wallplates, and everything in between!
» Shop Now

Stand-Alone & Specialty Connected Home Systems

Not every home wiring device needs to be connected to an integrated system. For smaller and more specific needs, Home Controls provides several stand-alone and specialty components, including coax and wireless networking, telephone distribution, and CATV and RF distribution. Need a wiring tool? We have those too!

Need Help Finding The Right Connected Home Solution?
Home Controls offers free support to assist you with product advice and system designs. We can help you find the right products to meet your needs.