The environmentally-safe compact fluorescent (CFL) bulb is taking a back seat to LED. One LED light bulb can potentially last 58,000 more hours than a incandescent bulb, and potentially 50,000 more hours than a CFL. In addition to providing energy savings, LED bulbs have minimal heat output, environmentally friendly materials, and comfortable, natural light. They're even great for outdoor use, because there is no UV light to attract bugs! You don't need a special retrofit kit to swap out your energy inefficient lamps and bulbs with these quality LED retrofit products – just discard the old bulb, and replace with the new LED bulb.
Power
LED Bulbs use considerably less power (or watts) to generate light, compared to CFL or incandescent bulbs.
Brightness
Lumens measure the amount of light, or brightness, of a bulb. The higher the Lumens, the brighter the light.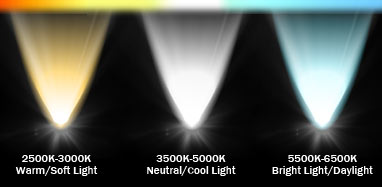 Color
Kelvins measure the temperature, or color, a bulb produces. LED bulbs with lower Kelvins create a yellow light (often called Warm or Soft Light). LED bulbs with average Kelvins create a white light (often called Cool or Neutral Light). LED bulbs with higher Kelvins create a bright blue light (often called Bright White or Daylight).

Need Help Finding The Right Lighting Control Product?
Home Controls offers free support to assist you with product advice and system designs. We can help you find the right products to meet your needs.